PRODUCTS AVAILABLE VERY SOON
Sox Super Comfy Fleece Cat Harness
Made from either two layers of fleece for those chilly cold days, or a layer of fleece and a layer of cotton for a less heavy option.  In a full length jacket style.
SCFH01.  Woodland Creatures Double Fleece Harness
SCFH02.  Black Double Layer fleece with Colourful Paw Print
Black fleece with paw prints all over, with either a blue or red fleece lining.
£24.00
SCFH03.  Grey Double Fleece Harness with Fox Pattern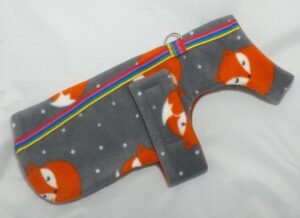 Grey fleece with a fox pattern all over, with a burnt orange lining.
£24.00